LUTHOR TL-55 KIT 5
LUTHOR TL55 DualBand HANDHELD VHF/UHF!
THE NEW AND MOST COMPLETE 8 SCRAMBLER 5 TONES, THERE'S NO DOUBT IT'S THE BEST HANDHELD OF OUR DAYS!!!!!.
It also comes with an adapter for charging from the cigarette lighter, a leather case, a microphone, a programming cable and an earphone for free.
NEW VERSION! MORE FEATURES: CCS / CTCSS tones Scanner
SMA FEMALE CONNECTOR, THE MOST STANDARD CONNECTOR AND MORE COMPATIBLE
Manual available in ENGLISH and SPANISH
Dual band Handheld VHF / UHF 144/430 MHz
Power 5 W / 4W
8 scramblers
2 tones / 5 tones
FM Radio
1500 mAh Lithium Battery
PC Programmable
128 memories
VOX Hands Free System
Frequency Steps 5K / 6.25K / 10K / 12.5K / 25K
105 groups CTCS/50 groups DCS
CCS / CTCSS Tones Scanner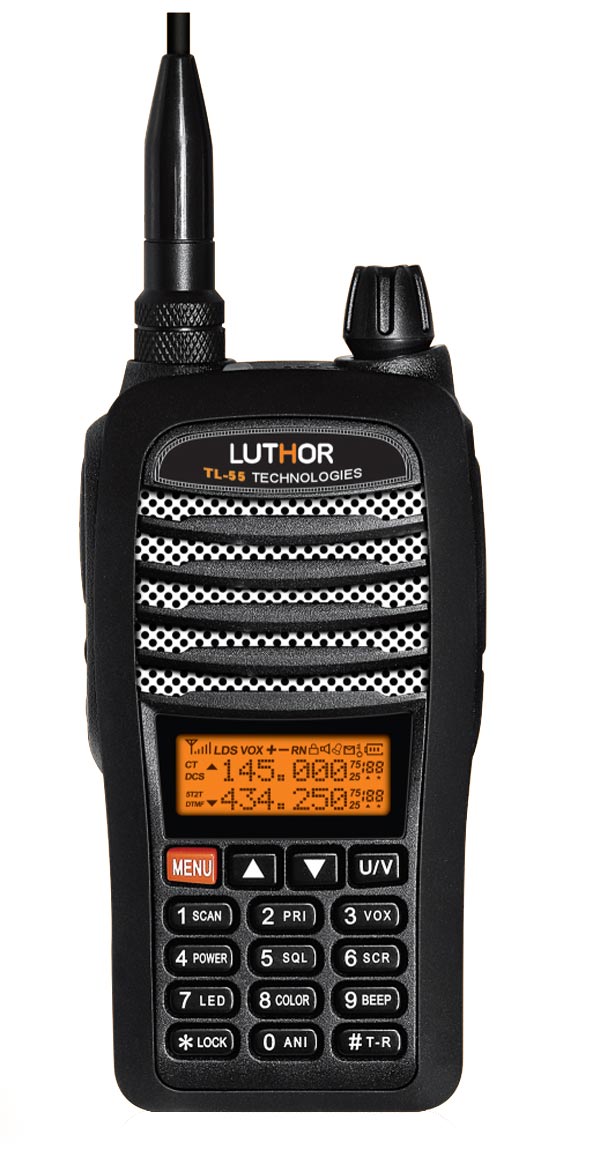 Kit contents
TL-55 Handheld
1500 mAh Lithium Battery
Fast charger
Earphone
Microphone
Car cigarette lighter charger
Belt clip
Manual in ENGLISH and SPANISH
Leather case
Programming cable
Features
ANI code
Scrambler
MSK / DTMF / 2tone / 5tone
Voice companding function
Direction of differ frequency, Frequency difference set
Voice prompt
Emergency Call
Multi-Scan Function
Multi-band selection
VOX Grade selective
TOT (Time-out-timer)
End-tone Elimination
Hi / Low power selective
Digital FM radio receiver
Keypad lock voice prompt
VOX sensitivity Adjustable
0-9 grade Squelch selective
Tri-color backlight (blue, purple, orange)
Full-CH / FR mode / Self-program / Online program / manual adjustor