KENWOOD TH-K20E

All our equipment is warranted by Kenwood Spain.
KENWOOD TH-K20E HANDHELD VHF 144- 146 !! NEW MODEL!!
Even at first sight, it's obvious that the new and elegant TH-K20E with its Kenwood keypad still have its own style. With its elegant appearance, this FM transceiver is so resistant to put up with the rigors of outdoor use without diminishing its performance. Enjoy yourself with the sharp and reliable free communications because of Kenwood is worldwide recognized.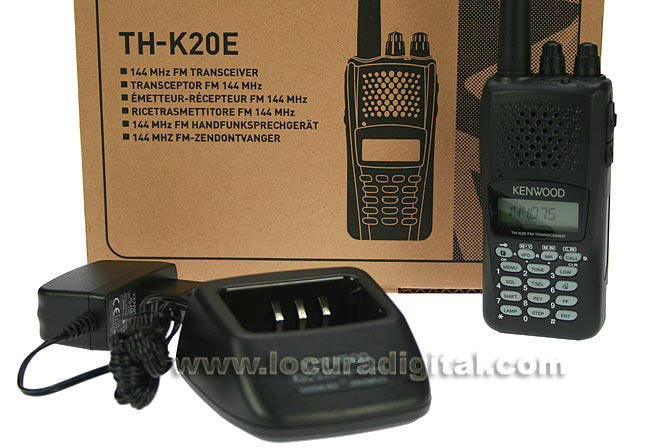 SOPHISTICATED DESIGN
In a high contrast with other transceivers of its same class, the elegant TH-K20E is sophisticated inside and elegant outside.

PRIORITY SCAN
By specifying a priority scan channel, you will be ready to receive on both frequencies. Between the multiple scanning functions, there are the next ones: VFO, MR, CTCSS, DCS and program.

6 CHARACTERS MEMORY NAMES
Have up to 200 Memory Channels, or 50 if case of using memory names (up to 6 alpha-tagging by channel). Have as well 8 memories for special functions.

CTCSS AND DCS INCLUDED
CTCSS tones (42 groups) and DCS (104 codes) included. 1750 Hz Tone Burst Function.
Kit contents
1 KENWOOD TH-K20E HANDHELD
1 Smart quick charger KSC-35S
1 Antenna
1 Belt clip
1 Instruction Manual in English, French, Spanish, Italian, German, Dutch and Turkish

Features
DTMF codes
Wide/Narrow Deviation Selection
Memory channels
Auto simple checking
Auto Repeater Offset
SMA antenna connector
Time-Out Timer
Auto Power Off


Weight 210 gr (with standard battery, antenna and belt clip)


Dimensions W x H x D = 54 x 111.7 x 25.3 mm (with KNB-63L, projections not included)