! GIFT PINGANILLO!
ICOM IC-E91 KIT To Walkie biband VHF/UHF. Frecuencias 144 mhz y 430 mhz +! GIFT PINGANILLO!
Receiver of broadband with capacity of double monitoring. Great screen LCD of dot matrix. Viewfinder band chart. 5W of power output.
Navigation from the keyboard. Connector for external feeding. Operation in digital voice with D-Star. Connectorfor external feeding DC.
Cover of frequencies:
Europe, UK: 144-146, 430- 440
VFO#A 0.495%u2013999.990
VFO B: 118%u2013174, 350%u2013470
Passages of syntony: 5 *, 6,25 *, 8,33 *, 9 *, 10, 12,5, 15, 20, 25, 30, 50, 100, 125, 200
(nonavailable in all the bands)
Power output: 5W; 0.5W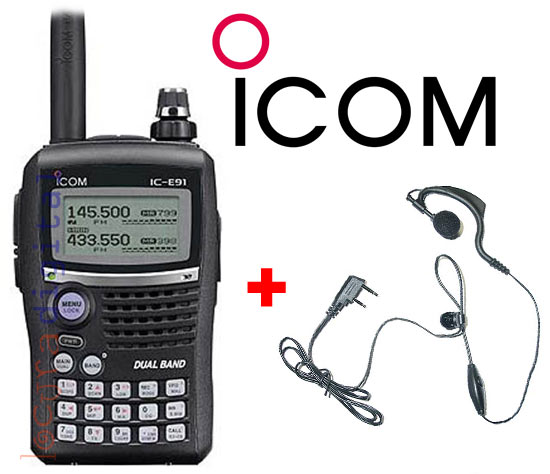 Cover of frequencies:
Europe, UK: 144-146, 430- 440 Mhz
VFO#A 0.495%u2013999.990 Mhz Rx
VFO B: 118%u2013174, 350%u2013470 Mhz Rx.
Ways:
VFO#A FM, WFM *, A.M. * (only reception)
VFO B: FM, FM-N, AM*1, DV * (it requires UT-121)
Rank of temperature: -20░C to +60░C
Stability of frequency: ▒2.5ppm (%u201320░C to +60░C)
Required feeding: 7.4V DC (battery)
Consumo(a 7,2 V DC):
Tx: 2.1A/2.└ (VHF/UHF)
Rx: Between 65mA to 340mA
Passages of syntony: 5 *, 6,25 *, 8,33 *, 9 *, 10, 12,5, 15, 20, 25, 30, 50, 100, 125, 200
(nonavailable in all the bands)
Dimensions (projections nonincluÝdas): 58.4(L) x 103(A) x 34.2(P) mm
Weight (with antenna and BP-210N): 300 g
Connector of antenna: 50 Ohm SMA
Intermediate frequencies:
VFO#A 61.65MHz/450MH
WFM: 59.25MHz/13.35MHz/1.95MHz
VFO B: 46.35MHz/450MHz
Sensitivity:
FM: of 0.14ÁV to 0.56ÁV
WFM: of 1ÁV to 3.2ÁV
A.M.: of 0.5ÁV to 1.3ÁV
Selectivity:
Wide AM/FM: > 50dB
FM narrows, DV: > 45dB
WFM: > 300kHz/%u20133dB; <700kHz/%u201320dB
Ratio of noise: > 40 dB
Esp˙rea radiation: <-57 dBm
Power output of audio: 200 mW with 8 Ohm
Connector of external loudspeaker: 2 contacts 3,5 /8 mm Ohm