Televison SATELLITE IN HIGH DEFINITION
GRUNDIG GUFSAT01SD platform for Digital Satellite Receiver FREESAT UK.
The BBC and ITV of freesat, a new digital satellite service offering FREE programs without additional cost. Freesat has no monthly subscription, only the single payment of the receiver dish and related installation. And because freesat is broadcast via satellite, is available throughout the UK and Spain
The conversion comes!
Conversion to Digital TV in the UK has already begun in 2012 everything will be digital. Once it acquires freesat, you will enjoy digital TV, and when the transition occurs in your area, do not have to do anything.


More coverage!

Due to the receivers Grundig Digital freesat get the content via satellite, available throughout the UK and almost all households in the world including Spain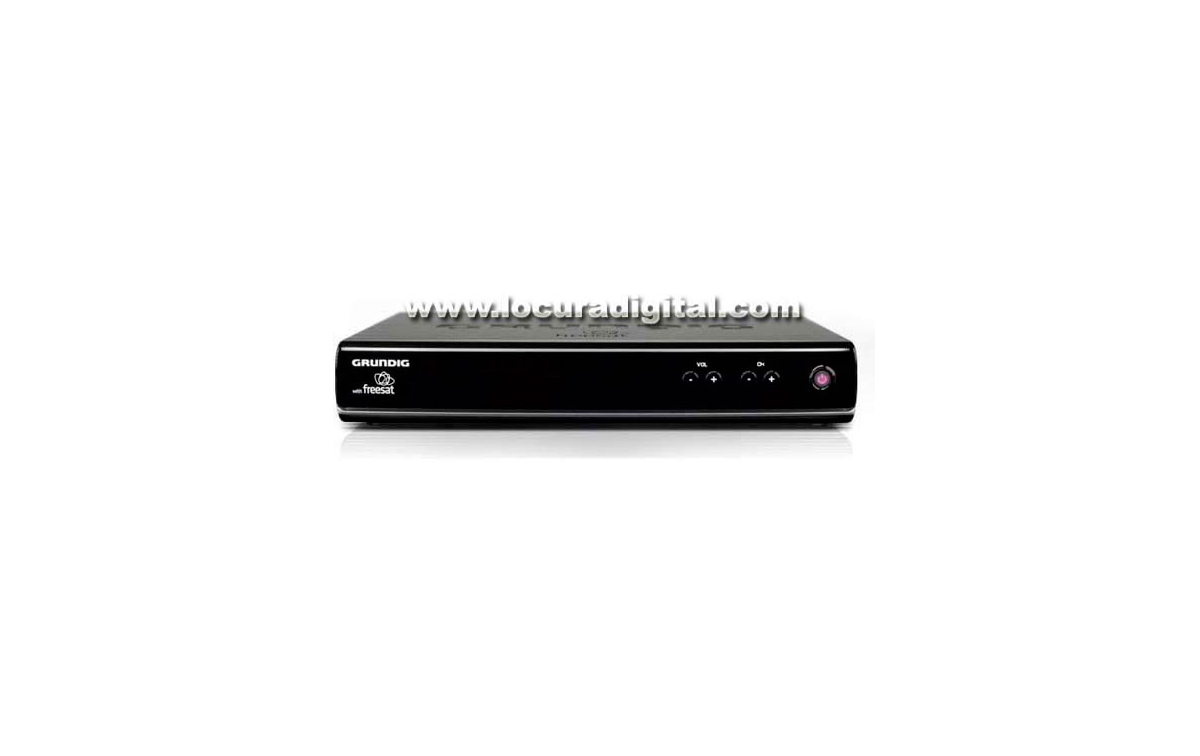 Contents of the kit:
- 1 Receiver Grundig
- 1 SCART Cable
- 1 Remote Control
- 2 batteries for the remote
- 1 converter to connect to European food
LIST OF CHANNELS THAT MAKES FREESAT:
Entertainment: (101-199)
BBC One (101)
BBC Two (102)
ITV1 (103)
C4 / S4C in
Wales
(104)
BBC Three (106)
BBC F
ou
r (107)
BBC HD (108)
ITV2 (113)
ITV3 (115)
ITV3 +1 (116)
ITV4 (117)
S4C Digidol / C4 in
Wales
(120)
E4 (122)
More4 (124)
Zone Romantica (135)
Zone Thriller (137)
News and Sports (200-299)
BBC News (200)
BBC Parliament (201)
S4C2 (202)
Al-Jazeera English (203)
Euronews (204)
Cinema (300-399)
Film4 (300)
True Movies (302)
True Movies2 (303)
Movies4men (304)
Movies4Men2 (306)
Lifestyle (400-499)
Wedding TV (402)
Overseas Property Channel (411)
Men and Motors (450)
Music (500-599)
Chartshow TV (500)
The Vault (501)
Scuzz (502)
Bubble Hits (503)
B4U Music (504)
Children's channels (600-649)
CBBC (600)
CBeebies (601)
CITV (602)
POP (603)
POPGirl (604)
Tiny POP (605)
General Interest (650-699)
Teachers TV (650)
Radio (700-799)
BBC Radio 1 (700)
BBC 1Xtra (701)
BBC Radio 2 (702)
BBC Radio 3 (703)
BBC Radio 4 FM (704)
BBC Radio 4 LW (705)
BBC Radio Five Live (706)
BBC Radio Five Live Sports Extra (707)
BBC 6 Music (708)
BBC 7 (709)
BBC Asian Network (710)
BBC World Service (711)
BBC Radio
Scotland
(712)
BBC Radio nan Gaidheal (713)
BBC Radio
Wales
(714)
BBC Radio Cymru (715)
BBC Radio
Ulster
(716)
BBC London 94.9 (718)
Shopping (800-849)
QVC (800)
Price Drop TV (801)
Bid TV (802)
Pitch TV (803)
JML Lifestyle (810)
Interactive services (900-949)
BBCi
Regional channels (950-999) accessible (Zip) via BBCOne / BBC Two
BBC One
London
(950)
BBC One
Channel Islands
(951)
BBC One East (W) (954)
BBC One
Northern Ireland
(957)
BBC One
Scotland
(960)
BBC One
Wales
(964)
BBC Two England (968)
BBC Two
Northern Ireland
(969)
BBC Two
Scotland
(970)
BBC Two Wales (971)
ITV regional (Zip) accessible via ITV1 in London (outside list)
Ulster
STV Scottish East
STV Scottish West
ITV1
Wales
ITV1 Border
England
ITV1 Central West
ITV1
Grenada
ITV1
Anglia
East
TV Channel