Sangean ATS-909X
The ATS-909X is a receiver continuously sintoninable of 153 kHz - 29 999 KHZ. for manual tuning. This receiver is able to receive and tune d all shortwave bands and any environmental station.
406 memories (FM 3 pages: with 27 / LW 1 to 9/2 with 18 MW / SW 39 with 351 presets) + a priority Five tuning methods: direct frequency tuning, auto scan, manual tuning, memory recall and dial adjustment knob. ATS (Automatic Tuning System) Auto Scan FM + RDS / RBDS
Sangean has expanded LCD screen now includes an LED backlight completa.Dispone jack auxiliary input for MP3 player or iPod connectivity. It has an integrated headphone amplifier that allows manual control of the volume to the headphones.
This radio includes an alarm clock that uses a rising sound timbre or a radio station u200Bfavorita% u200B%. Also includes three sleep timer or fixed and adjustable timer.
Includes 230v AC external power supply, with charging device for NIMH rechargeable batteries. Uses 4 x "AA" alcalinas o baterías recargables (no incluidas).
Includes cover, headphones and wire antenna for Shortwave.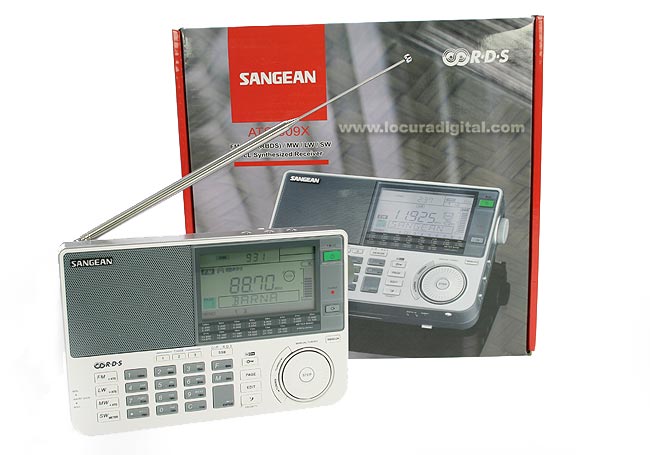 Kit Contents Segean ATS-909X
1 Sangean ATS-909X
1 Transformer
1 Antenna long wire
1 receptor Cover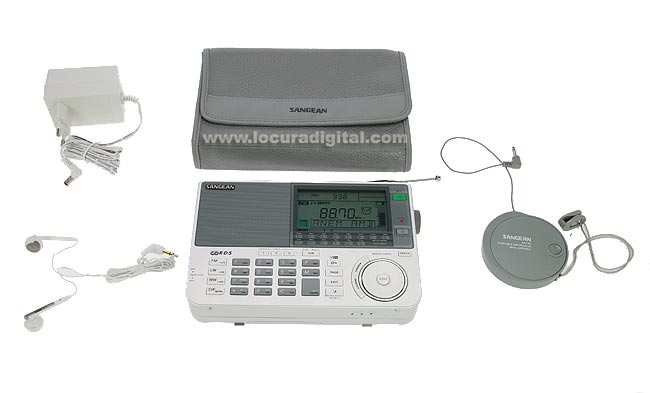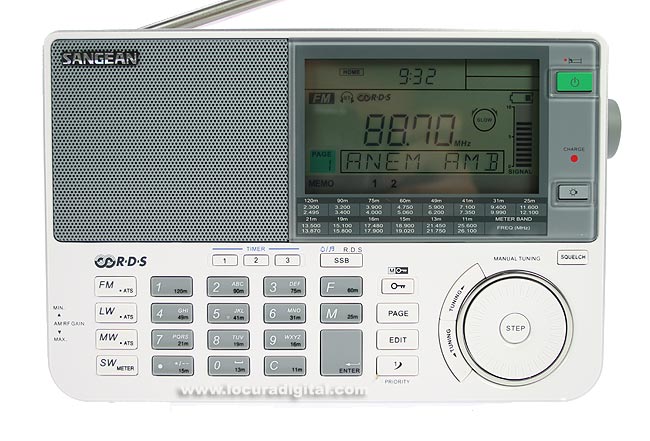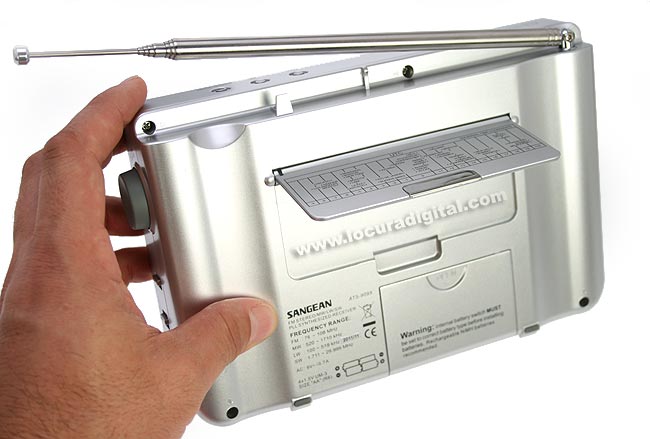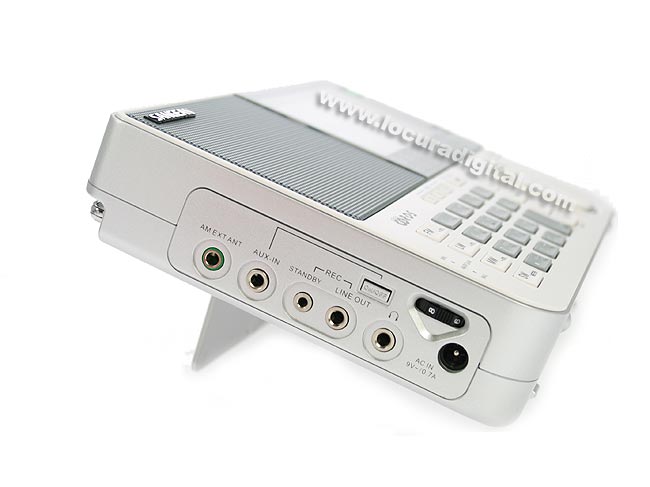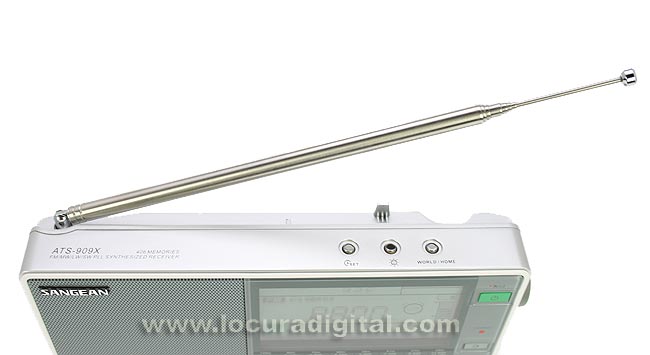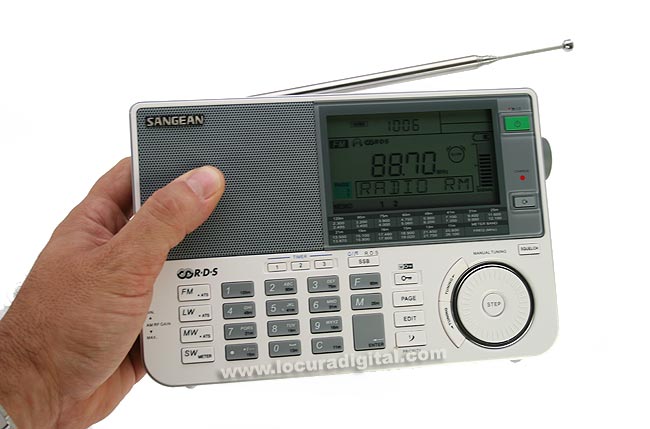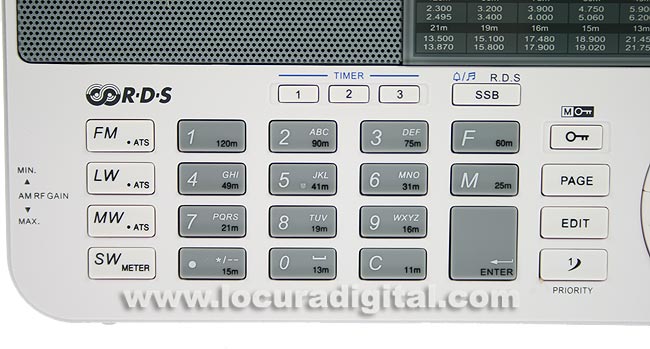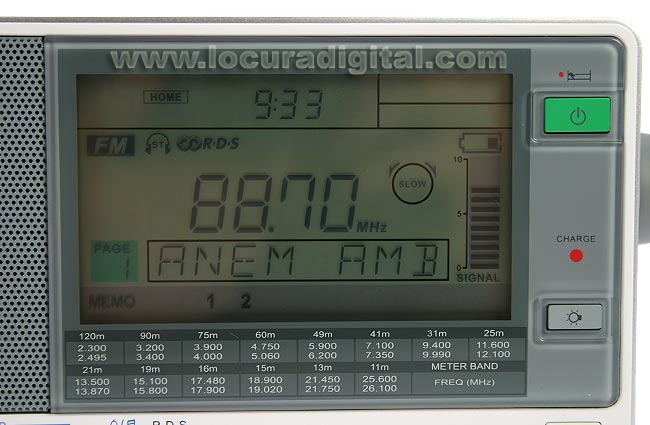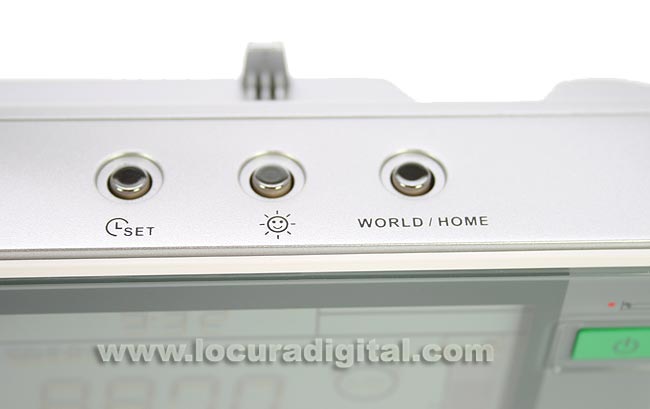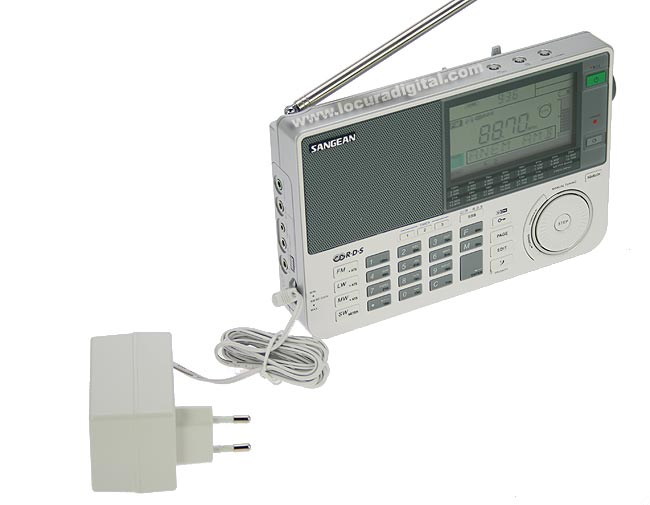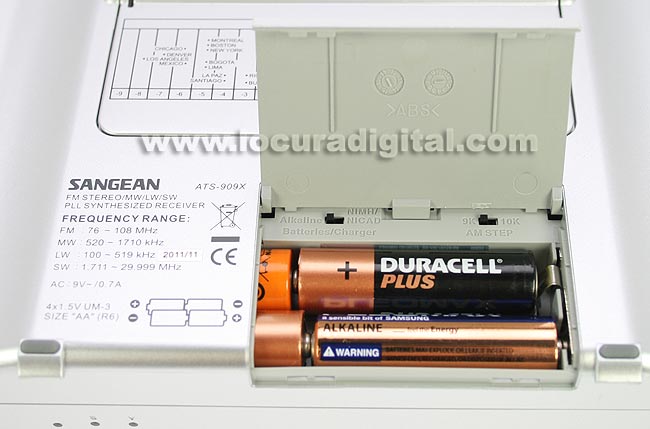 Important:


If you use non-rechargeable battery,before inserting the batteries make sure the interreptor alkaline battery or NiMH / NiCad charge located inside the battery compartment moves to the position ( Alkaline batteries) If you use rechargeable batteries,Be sure to move the switch NiMH / NiCad / Alkaline to position NIMH / NICAD charger.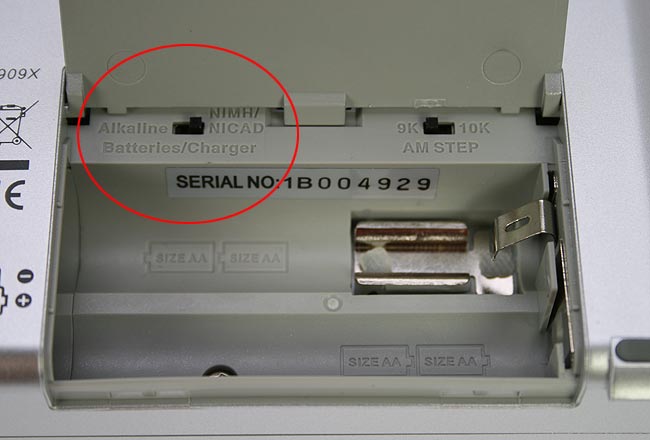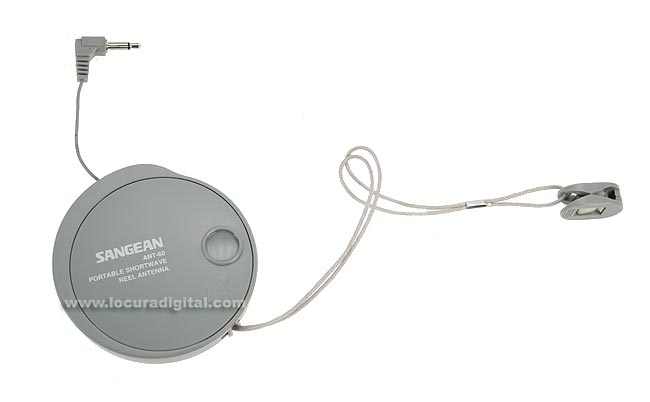 Features
ATS (Auto Tuning System) Auto Scan
406 Memory Presets

Speaker 3 '8 ohms / 3 watts

FM / VHF-FREQUENCY 76-108 MHz AM / MW - FREQUENCY - 522 - 1710 kHz LW 100-519 kHz SW-FREQUENCY FREQUENCY MHZ 1711-29999

Five ways to set the operating frequency: Straight from the keyboard , auto-scan, manual scan, using the DIAL or recalling memories.

Large LCD display with bright LED backlight

Automatic search of higher signal intensity

Three clock radio or buzzer with

42 + 2 zones established modified with city names

Filter AM W / N

Switch FM mono / stereo

Receiving SSB (USB / LSB) with 40 Hz tuning step

Ability to adjust the receiving threshold to eliminate weak signals

Adjustable Auto Off

Front double conversion circuit

EEPROM for memory backup

Edited 8 characters for the name of the station

Trim Control

Calling the favorite station with a key

audio tone control

Headphone Amplifier

Indicator battery and received signal strength

Cable ANT-60 antenna included in the package

Dimensions: 208mm W x 135mm high x 41mm deep.

Weight: 750 grams

% uFEFF% uFEFF
TUNING PLL synthesized type
Memory Presets 406
V Rotary Tuning
Tuning System Auto V
10 - Key Input V
SCREEN LCD / VFD / LCD Dial Scale
View Area (mm / inches) 84.5 x 49.5
Type Graphic / Character Segment
Back Light V
FEATURE Stereo Headphones
V Charger
FM TUNER Frequency (MHz) 87.5 to 108, 76-108
RDS / RBDS PS / PTY / RT / CT
LW Frequency (kHz) 153-519
MW Frequency (kHz) 520 - 1710
SW Frequency (MHz) 1.711 to 29.999
120,90,75,60,49,41,31,25,21,19,16,15,13,11 Meter Bands
AM SSB USB / LSB
Double Conversion V
Wide / Narrow V
MEDIA Aux - in V
V RTC
Dual / World time World time
V Clock Radio
Alarm Buzzer V
Napping V
Sleeping V
Radio Control RDS - CT
Tone Control EQ AUDIO NEWS / NORM / MUSIC (Slide)
DISPOSITIVOS DE SALIDA Altavoz (Mm / pulgadas) 3 pulgadas
Impedancia 8 ohmios
Zumbador V
POTENCIA DE SALIDA (TÍPICO) AC / DC en (Speaker) 1,5 W
Baterías (Speaker) 700 mW
Auriculares 5 + 5 mW
FUENTE DE ALIMENTACIÓN CA a CA en 9V AC / 0.7A
Las pilas (alimentación principal) 4 x 1.5V (UM - 3)
I / O CA a CA en V
Auriculares V
Line - out V
Ext.Antenna SO
Aux - in V
REC Standby V
ACCESORIOS Adaptador de CA V
Bolsa de viaje V
Auriculares V
SW Antena V (ANT-60)
DIMENSIONES Ancho (mm / pulgadas) 208
Altura (mm / pulgadas) 135
Profundidad (mm / pulgadas) 41
Peso (g & oz lb) 734