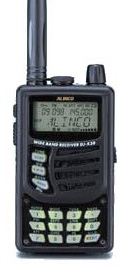 Compact design only 220g with battery and antenna. It fits easily in the pocket.
KHz to 1,3 receives from 100 GHz
Triple conversion AM/NFM; double conversion in WFM
AM/FM/WFM seleccionables ways.
1.000 channels of memory in 10 banks; the banks can be extended up to 50 using a free publishing software. Remote control with optional cable EDS-12.
Five ways search: Predetermined, programmed, memorizado, VFO and search of tones.
Jump of memory in the way memory.
High-priority reception (You store up to 10 high-priority channels in memory)
2 Pilas Alkalina internal AA allows him to operate a whole day.
Trestipos of different antennas: - Auricular internal ferrite antenna, Antenna -, and external antenna SMA. Optional antennas connected by SMA can improve the reception still more.
Car or 16 different types from jump of frequencies.
Tone key (on/off selectionable).
39-tone Tone squelch
Atenuador (approx 20dB)
Battery-save, Auto-Power-Off.
Optional Cable-clone
Monitor/Mute.
Function alert signal warning with tone bip and icon when it receives signal.
Ample illumination of able screen LCD of more of alfanumericos 6-digits
Decoder analogical Inversor-Scramble.