YAESU VERTEX STANDARD VX-2200. Issuer small mobile UHF 400-470 MHz band separation 12.5 / 25 hz. 128 channels 5 shades
The VX-2200E is a wireless transceiver for use in commercial radio is available in both V and UHF bands. Its small size enables us to their installation in confined spaces of any type of vehicle. The great strength (meeting MIL 810 C,"C E) and studied design of the front controls allow for intensive use in professional environments of high wear while simplifying its management to unskilled users.
This model unlike the VX-2200 features a display with ability to display up to 8 characters and 128 memory channels.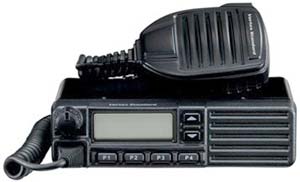 With 128 channels, 25W of power, one version covers the entire band (V / UHF), silent alarm transmission environment with audio opening for emergency signs and all kinds of possible (CTCSS, DCS, 5-Tone Multi) VX-2200E offers a wide variety of possibilities for use in corporate networks, with diverse needs from the most basic communication to more complex, requiring caller ID, alarm signals, data communication and so on.

Moreover, the VX-2200 is compatible with the system of V-TRUNK VERTEX (check with our engineering department).