REMOTE CONTROL HEAD (optional)

COVERAGE THROUGHOUT THE BAND

VHF / UHF
512 Channels
DUAL PRIORITY SCAN
DOT MATRIX DISPLAY
KENWOOD TECHNOLOGY TO IMPROVE
AUDIO QUALITY
ENCRYPTED VOICE INVERSION

FleetSync ® /

FleetSync ® II
5-TONE SIGNALING

FUNCTION%% u201D FOR WORKER u201CLONE

ISOLATED USER
REMOTE CONTROL HEAD (OPTIONAL)
The kit KRK-10 remote control becomes a front panel header

small size remote control for smaller vehicles today and for assembly to console mode.
OPERATION WITH BROADBAND
The models presented TK-7180/8180 UHF coverage (70

MHz) and VHF (38 MHz) bandwidth in a single radio model.
KENWOOD% u201CKLARITY

"

: TECHNOLOGY KENWOOD IMPROVING THE QUALITY OF AUDIO
Kenwood Communications benefits from the extensive experience of the corporation

in the management of audio, has emphasized the fundamental frequencies of voice against environmental noise. This combination reduces noise, increases voice clarity and low distortion.
LARGE CHANNEL CAPACITY
The large capacity for 512 channels and 128 provides coverage for areas *

virtually any requirement as to present or future.

Maximum capacity * Notes

Total 128 zones than conventional radio Total Conventional 512 channels maximum per radio 250 channels per area than conventional
DUAL PRIORITY TASKS AND MISCELLANEOUS

EXPLORATION
The dual priority scan automatically checks the activity

important two channels while scanning channels. In addition, each radio can be programmed to scan any organization of channels and conversation groups with different characteristics and parameters programmable scan.
DOT MATRIX DISPLAY HIGH

VISIBILITY
The alphanumeric display dot matrix of twelve characters with high resolution and

backlighting provides easily readable channel alias and day of noche.Adem? the sub-screen 3-digit channel numbers and icons Zone for indicators of function / state provide a much more intuitive operation. The dealer can customize the display to offer languages other than English

.

FleetSync ® / FleetSync ® II
The digital signage system from Kenwood FleetSync ® includes ANI

(automatic number identification) digital PTT Unit ID for instant recognition of radio calls and states of emergency for personal safety. FleetSync also includes status messaging functions, selective calls and text messaging long or short. The units offer support TK-7180/8180 FleetSync ® original system and FleetSync ® II *.

* FleetSync and FleetSync II are not compatible
5-TONE SIGNALING
Besides FleetSync ®, models TK-7180/8180

i

include signaling formats in the industry standard: QT / DQT, DTMF and 5 tones. In Specifically, 5-tone signaling has been significantly improved for offer greater flexibility, and current users of this format appreciate the possibility of using it in combination with FleetSync ® for the text message service short or long and sends GPS position.
UNIT VOICE GUIDE & STORAGE (OPTIONAL)
This innovative option from Kenwood has a number of functions. The% of u201Cgu?

% u201D voice announces the canal, the area, the on / off functions, etc.., with a synthesized voice and clear. The%% u201D voice u201Calmacenamiento lets you record up 300 seconds of receive audio for missed calls or voice of user to record notes. It also presents a greeting in response automatic and can record voice messages for unattended radios when the user is away or met (the sending unit should send a call FleetSync ® for selective activation).
Complies with MIL-STD E IP54/55, LA WITH RAINPROOF gusty winds
TK-7180/8180 models

are built to withstand impact Strong and weather environments with many types of mobile facilities. These mobile teams meet rigorous standards IP54/55 relating to dust and water intrusion and environmental standards * MIL-STD 810 C,"C E and F, including demanding evidence of rain and wind gusting .**

* Only applies to the control head when the KRK-10 kit is installed.
** Support for IP / MIL-STD requires high-performance microphone KMC-35 KMC-36.
REAL TIME CLOCK FOR THE INDICATION TIME
This real-time clock, a new

Kenwood function can be used to include the time in the call queues.

U201CLONE WORKER FUNCTION%% u201D FOR USERS ISOLATED
This ingenious feature adds extra security and protection for people

working in remote locations or hazardous areas. If you press the regular buttons, the radio will operate normally, if after an prolonged period (programmable) of individuality, will issue a warning. If the user does not respond, the unit made a call TK-7180/8180/7189/8189 emergency to a person or a group of people default.
PREPARED FOR GPS (COMPATIBLE WITH NMEA0183)
TK-7180/8180 models have a docking port (internal or

external) for GPS receiver data output 0183. This allows a system compatible with AVL can FleetSync track a fleet of mobile radios TK-7180/8180
DATA MODE TRANSPARENT
Transparent Data Mode

Kenwood works combination with FleetSync ® to allow complete transparency characters in order to exchange data with a transceiver connected to a PC or peripheral equipment. This function can be used for remote control remote maintenance and monitoring of status, etc..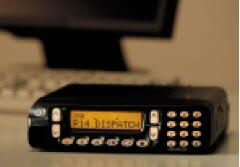 ACCESSORIES CONNECTOR DB-25
TK-7180/8180 models

equipped with a connector Accessories DB-25 (female), which allows simple connection of external equipment, such as a PC, an external GPS unit, a data modem and other accessories.
It is also possible remote operation with CAD (Computer-Aided Dispatch computer-assisted or distribution) and online channel change by BCD.