LUTHOR TL-742 HAMMER

LUTHOR TL-742 HAMMER. Battery 2300mAh capacity.
Professional monoband UHF handheld. IP-65 protection
Professional monoband UHF 410-470 Mhz handheld.
IP-65: Totally protected against dust ingress. Protected against low pressure water jets from any direction. Limited ingress permitted.
Includes a Smart Dual Charger, a Lithium Battery, an UHF Antenna, a Belt Clip and an Earphone for free.
This Luthor handheld is extremely easy to use and operate. This compact portable transceiver is extremely reliable. With these balanced performance, it appears as the perfect choice for your business, especially in inventory control activities and operations for industrial services.
The customer needs to attach the frequencies to enter into the handheld!!
Battery with 2300mAh high capacity included.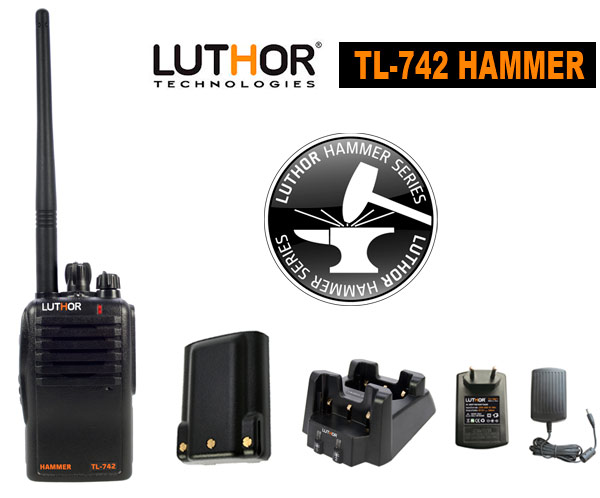 Kit Contents
1 LUTHOR TL-742 HAMMER handheld
1 UHF Antenna
1 Lithium Battery 2300 mAh
1 Belt Clip
1 Smart Dual Charger
1 PIN-19K Earphone




Features
Frequencies: UHF 410 - 470 Mhz
Output power: 4w / 1w
IP-65 protection
VOX function, with adjustable sensibility
16 memory channels
Bandwidth selection: wide / narrow
CTCSS Analogical tones and DCS Digital
Transmit Time-Out Timer
Battery saver
Low battery indicator
Programmable (by Software)
High Capacity Lithium Battery
Emergency Alarm
Audio Kenwood Connection, 2 Pins