KENWOOD TK KNB45 + 3302 + BATTERY CHARGER + ANTENNA KSC35
BUSINESS USE WALKIE 16 CHANNELS PROGRAMMABLE UHF 406-430 MHZ PC
Portable UHF 406-430 MHz, with 2000 mAh lithium battery charger KNB45 + KSC35, priority scan, VOX, voice segrafonia for investment included, 12.5-25 kHz spacing, IP 54/55 and MIL-STD 810/C/D / E / F, indication of voice channel, belt clip, antenna.
! It is necessary to attach the client to enter frequencies in Walkie!
Includes:
KENWOOD TK 3302 +1 LITHIUM BATTERY CHARGER KNB45 + 1 RAPIDO KSC35 + 1 + 1 CLIP ANTENNA BELT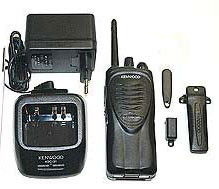 The excellent design of transceivers Kenwood portable
TK-2302/3302
guarantees superior ergonomics. Choose the desired and immediately verify ease of use. Also enjoy its extensive, including
f
unctions exploration priority VOX and voice mixer. The compliance with the demanding protection standards to inclement environmental IP54/55 & MIL-STD 810, you will the security of a great performance still in operable condition very effects. Whether inside or in the outside, whether it rains as if you sun, the excellent workmanship of the TK-2302/3302 laptop down a new benchmark for achieving convenient use and yet tough.
COMPACT DESIGN
Thanks to its compact design allows
use in every way, this new
smart radio terminal has a unique ergonomic format that facilitates its management and operation.
EASY TO USE
The buttons and keys on the transceiver are designed to provide the user click mechanical switching and have voice announcement, allows use of a discreetly in a pocket.
16 CHANNELS
A sufficient channel capacity many conventional radio systems.
VOX FUNCTION INCORPORATED
The transceiver has a practical function
to work hands-free using optional external headset. The internal circuitry of TK-2302/3302 VOX (voice-operated transmission) for an adjustment 10 levels of sensitivity for activation Automatic PTT line with the levels of noise in their use
SIGNALING
The encoder / decoder QT / DQT included can separate conversation groups so users only hear the talks of his own band called frequency sharing yet.
ENHANCED KENWOOD AUDIO
TK-2302/3302 transceivers offer a sound loud and clear even in noisy environments.
ROBUST & RELIABLE
The terminals are TK-2302/3302
been manufactured to withstand bumps, drops and all kinds of conditions meteorological faced its users. These It meets and exceeds the stringent IP54/55 standards on dust intrusion water, and MIL-STD 810 C,"C E and F, including demanding proof of "rain and wind."
* Support MIL-STD/IPXX requires the use of cover terminal provided with the SP-Mic.
VOICE MIXER FOR INVESTMENT
The blending of voice incorporated investment
provides basic protection in the conversations preventing its compression against eavesdropping.
EXPLORATION
Exploration of multiple channels can
change keyboard to remove or add channels. The priority exploration checks Automatic and regular activity declared as a priority channel even when hear a conversation in another channel. Moreover, a number of practical functions such as suppression Temporary and return channel transmission, facilitate the proper operation under the user needs and simplify their use.