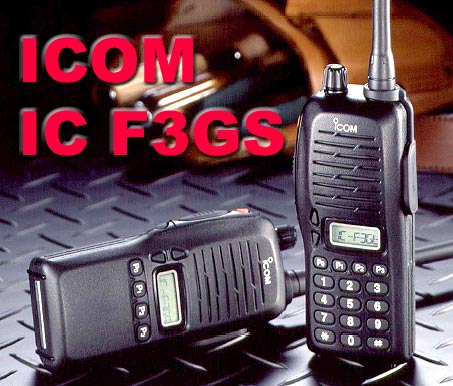 ICOM IC F3 GS
It includes:
1 VHF walkie IC F3GS + tablecloth to shipper BC -146 +1 + BC-147E battery BP 209N 7,2V. 1100mAh. Neither-CD + to paper paper clip cinturo

Programmable by PC.
It fulfills norms MIL-STD810
CTCSS/DTCS to encoder/decoder.
40 programmable channels of memory.
5 w of to power RF (1 selectionable w), selectionable programmable by channel and/or from the keyboard.
Programmable Functions of the keys according to preferences.
Dimensions: 2 1/8 (w), 5 3/16 (h), 1 7/16 (d) 13.1V
Portable VHF
Equipment of robust, easy construction of uses of small size.
Multiple signaling: Coder/decoder CTCSS and DTCS and to coder 5 built-in tones. Optional to decoder 5 tones UT-96.
Optional Smartrunk with the UT-111
Programmable keys (8).
Optional Function dead man with the UT-113
Optional For segurizadas communications sacrafoniía with UT-109 or UT-110.
Neither-CD batteries allows to 8 hours of uses (TX; RX; It waits for = 5; 5; 90%)
It fulfills military specifications THOUSANDS.
Screen LCD with 7 alphanumeric characters.
Many to other additional functions: 40 memories, 5 watios, possibility of urgency channel, high-priority channel, normal and high-priority, key tracking of to user, remote control by microphone (HM-75) and dwells?