PROFESSIONAL EXPLORER-SE

PROFESSIONAL MINELAB Explorer Detector metales PROFESIONAL
Detector with the latest technology FBS. There are 28 search frequencies. Now with DD dish of 27 cm. diameter lighter, deeper, more sensitive. Unbeatable!
Luminous digital display with two forms of discrimination. Easy programming and management.
DPeso smaller and offset with something light and waterproof. Detecting spend hours without tiring.
NEW THIS EXPLORER IS
offset lower weight and with something light and waterproof. Detecting spend hours without tiring.
New menu structure easier access to programming the Explorer SE is a task for children. User interface simple and intuitive.
New mode modulated precise location and depth identification more reliable. You'll spend less time digging useless objects.
Iron Mask coordinates from 0 to 31 with iron discrimination capabilities. Simplest Correspondence between Iron Mask parameters and digital values; function easier handling; Simplifies use of Iron Mask; uses function better.
New parameters of acoustic tones with new Pitch Hold mode (Hold tone) to distinguish weak signals, to retrieve small objects and more profound.
New controls for volume and tone background. Perfect fit and tone volume to the operating conditions. More comfortable and precise parameters.
More stability in noisy environments and with much junk. Less false signals can travel faster field.
Coordinates the largest object in the digital display with improved menu fonts. User Interface easy to read.
Mricroprocesador faster and powerful, lower consumption and more responsive. Reduce time spent detecting, programming and recharging.
Intuitive menu, easy to follow! Smartfind graphically represents the conductivity and the iron content. The position of the object on the screen are the precise coordinates of the object found. The digital display is numerically the characteristics of the found object.
Kit Contents Explorer SE Professional
1 Detector Explorer SE Professional
1 Headset
1 Manual English and Castilian
1"0sheath area only electronica
1 holder for alkaline batteries 8 units this system can not be loaded
1 rechargeable NiMH battery 9.6 v. 1600 mAh
8 Batteries Rechargeable battery
Includes Headphones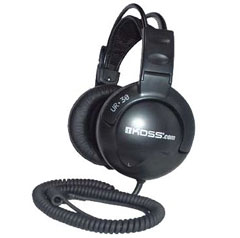 Koss headphones have been tailored Minelab.
These excellent headphones will provide a clear signal of 100 Ohm. They padded muffs that eliminate outside noise and are very comfortable to wear all day. Amazing
for more accurate detection and deep!