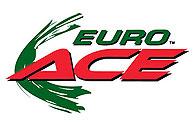 EURO-ACE PROFESSIONAL Metal Detector GARRETT
The New EUROACE Garrett, known as ACE 350 in USA, has been designed specifically for search engines in Europe. Users who have already enjoyed the power and performance of an ACE 250 will no doubt be most interested in the new technology offered by the new EUROACE Garrett. This detector provides important advantages in finding coins, jewelry and relics.
"0powerful course u201CDD% u201D% 28 x 22 cm. This new coil increases the depth of detection and increased performance by significantly reducing the negative effects of mineralized ground and the interference caused by salt water. The blunt end of the coil and the width of your design, provide enhanced searching in areas with obstacles.
Improved discrimination of iron near a valuable object. The coins and relics hunters will appreciate the availability of more precise control when applying iron discrimination. This function is used to help separate the worthy goals of adjacent ferrous trash.
New higher search frequency (8.25 KHz). Provides greater ability to detect small targets such as small gold nuggets, etc..
Improved audio tones to indicate more clearly the distinction between ferrous and nonferrous targets.
Garrett Headphones with volume control included.
The new metal detector Garrett includes plate EUROACE u201CDD%% u201D, headphones with volume control, a rain cover for the ACE control box and transport Backpack Garrett.

KIT INCLUDES: