IL LUSION PLC Ethernet Adapter DUO85 grid
Powerline plug to connect to any home and create your own network.
Use the wiring of the house to transmit Internet datoz, voice, audio and digital video.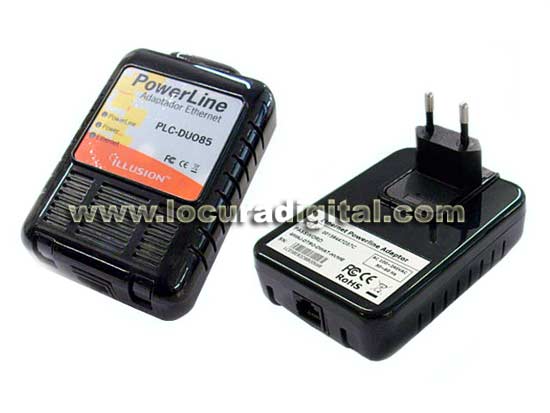 Contents of kit
- 2 units-DUO85 PLC
- 2 Ethernet cables
- 1 CD with drivers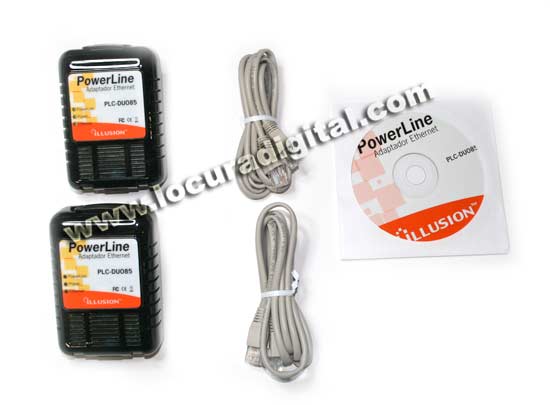 IT IS VERY EASY AND SIMPLE
MAIN FEATURES
Use the wiring of a property to transmit data,
voice, video and digital audio.
- Extends Internet access to any outlet in the house.
- Supports transmission rates of up to 85 Mbps
- Compatible with HomePlug 1.0 and HomePlug Turbo.
- Complies with the IEEE 802.3/802.3u/802.3x.
- Configuration Plug-and-Play.
- Technical DES encryption (Data Encription Standard) 56-bit
a secure communication.
- LED indicator for the state of communication.
- Includes CD with software management.
- Possibility of establishing a public or private.
POTENTIAL APPLICATIONS:
- Sharing Internet access

- Streaming and transfer audio / video
- Expand the coverage of wireless networks LANs
- Voice over IP
- Sharing files, applications, printers and other peripherals, security cameras
etc.
FREQUENTLY ASKED QUESTIONS
Is it necessary to install the software that comes with the installation cd?
No, at first W. Xp and W. Vista recognized the device and is not necessary to install the software package, so if you need security should be based on the facility,
Can we expand the network with more devices?
Yes, perfectly, and works the same way as if we had computers connected to a Switch.
How complicated is to install a network Plc?
No, the operating system recognizes it and is managed automatically.