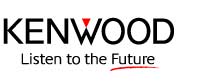 M-515b KENWOOD HI-FI Micro-Based iPod - BLACK COLOR Finish
The M-515 micro system fits easily into a small space, offers a complete range of input sources, including CD, USB and iPod / iPhone dock with built-in. It even has an FM tuner.
Compact size and sleek design
Powerful 20W x 2 amplifier with subwoofer channel
Includes dock iPod / iPhone, CD slot, USB port.
CD-R/RW (MP3/WMA)
Front AUX input
Kenwood M-515-B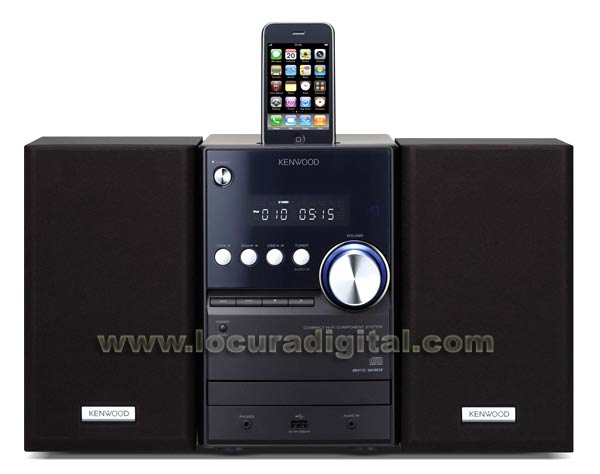 | | | |
| --- | --- | --- |
| | | |
| | FEATURES | |
| | | |
Storage Features
| | |
| --- | --- |
| USB-A Terminal (USB Host) | Yes |
| Decoding Format USB | MP3/WMA |
General Features
| | |
| --- | --- |
| Tone Control | Bass and Treble |
| X-Bass / Subwoofer | Yes |
| Remote | 29-key Card Type |
Amplifier
| | |
| --- | --- |
| Max Output Power Stereo | 2 x 20 Watt |
Tuner
| | |
| --- | --- |
| Tuner | Yes, FM |
| Radio Data System (RDS) | Yes |
| Radio Text | Yes |
| Programming (PTY) | Yes |
| Number of presets | 30 |
| Timer | Alarm (Timer 1, Timer 2, Timer 3) Sleep (10 ~ 180 min.) |
Playable Media
| | |
| --- | --- |
| CD DA / CD-R/RW | Yes |
| MP3 | Yes |
| ID-3 tag | Yes |
| WMA | Yes |
CD Features
| | |
| --- | --- |
| CD DA / CD-R/RW | Yes |
| MP3 | Yes |
| WMA | Yes |
| Programming play | Yes |
| Repeating play | Track, Group, All |
| Shuffle | Yes |
Features iPod dock
| | |
| --- | --- |
| Connection iPod / iPhone | IPod direct connection (with integrated Dock docking station) with charging function |
| Video Output | Video output (composite) to play iPod videos |
| Supported versions of iPod | iPod nano (1 st -5 th gen.) iPod mini (1 and 2nd gen.) iPod (4 th gen.) iPod Video (5 th gen.) iPod Photo (4 th gen.) iPod Classic, iPod touch (1 st & 2 nd gen .) iPhone, iPhone3G, iPhone3GS |
| Control iPod functions | Play / pause, skip or fast search forward / backward, random, repeat. |
Digital inputs / outputs
| | |
| --- | --- |
| USB-A Terminal (USB Host) | Yes |
Analog inputs / outputs
| | |
| --- | --- |
| Composite Video Output | Yes |
| Speaker Terminals Push-type | If |
| Headphone Jack (3.5 mm) | Yes |
| Front Auxiliary Input Jack (3.5mm) | Yes |
| FM antenna connector 75 Ohm | Yes |
Speakers
| | |
| --- | --- |
| Type | Shelving |
| Settings | Wide Banda Bass Reflex type |
| Grid. | Fixed |
Audio section
| | |
| --- | --- |
| DIN Power Music | 2 x 20 Watt |
| Nominal Output | 2 x 20 Watt (1kHz, 10% THD, 6 ohms) |
| Graves | Yes |
| Treble | Yes |
| Line (AUX): Sensitivity / Impedance | 500mV / 47k ohms |
| Line (AUX) High: Sensitivity / Impedance | 250mV / 47k ohms |
Tuner Section
| | |
| --- | --- |
| Frequency range FM reception | 87.5 ~ 108MHz |
USB Specifications
| | |
| --- | --- |
| Format | USB Host (Playing) |
| Standard USB | 1.1 / 2.0 |
| USB Devices | USB mass storage devices |
| MP3 Sampling Frequency (Stereo) | 32/44.1/48kHz |
| MP3 Bitrate (CBR / VBR) | 32 kbps to 320 kbps |
| WMA Sampling Frequency (Stereo) | 32/44.1/48kHz |
| WMA Bitrate (CBR / VBR) | 48 kbps to 192 kbps |
| ID-3 tag | If |
| Maximum number of folders | 99 |
| Maximum number of files | 999 |
| Maximum supply current | 500mA |
| File System | FAT 16 / 32 |
Specifications iPod docking station
| | |
| --- | --- |
| IPod connection | Maximum power 5 CC, 500 mA |
Speaker Specifications
| | |
| --- | --- |
| Maximum input peak power | 20 Watt |
| Impedance | 6 ohms |
| Speaker | 100mm cone |
General Specifications
| | |
| --- | --- |
| Display Type | Blue backlit LCD |
Power Specifications
| | |
| --- | --- |
| Power Consumption | 16 Watt |
| Stand-by Consumption (pending) | 1 Watt |
Dimensions and Weights
| | |
| --- | --- |
| Main Unit Dimensions (WxHxD) | 165 x 250 x 226 mm |
| Speaker Dimensions (WxHxD) | 140 x 250 x 134 mm |
| Net weight of unit | 2.3 kg |
| Speaker Net Weight | 1.3 kg each |