Kenwood TS-990-S
New World first for Digital Madness!
New Kenwood TS-990, HF equipment ready to revolutionize the radio.

HF/50MHz Transceiver "Flagship"
200 watts output from the amplifier FET 50V Push-pull
Intercept Point +40 dBm to
Main Receiver - lower conversion on all bands Filter 270Hz/500Hz/2.7kHz/6kHz/15kHz Roofing
secondary receiver - Conversion 15/20/40/80/160M lower bands (as TS-590S) 500Hz/2.7kHz Roofing Filters
TDF 2 Screens Colour
3 DSP Processors
Includes Encoder / Decoder RTTY/FSK/PSK31. Updated QPSK
4 Connectors SO-239 antenna jack RCA more antenna reception and check. "Name antenna" on display for each connector SO-239
Connectivity: - 10MHz Reference Oscillator (BNC) - External port ATU - Entry Keyboard - COM port (9-pin female) - Manipulator - Paddle - 2 USB-A, 1 USB-B connector - Audio / Data "ACC-2" - Connector "Remote" - measuring 3.5 mm Jack - "DRV" low-level LF drive - Input / Output SPDIF optical - 2 external speaker jacks - Port Dual DVI-I video -link - LAN port
NOTE: Does not include microphone.
??valid Microphone NOT INCLUDED KENWOOD MC-60
Software ARHP-990 coming soon.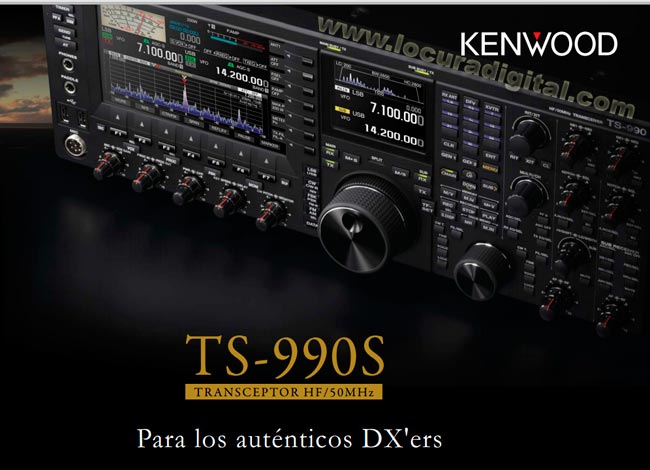 kenwood TS990S KIT CONSISTS:

1 AC Power Cable
1 Operating instructions and Includes diagrams
1 Outlets 1 x 7-pin DIN, 1 x 13-pin DIN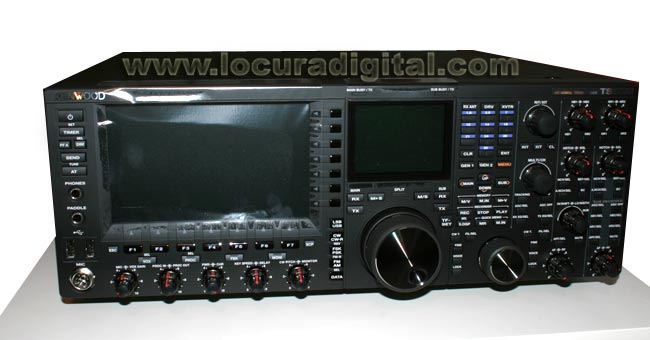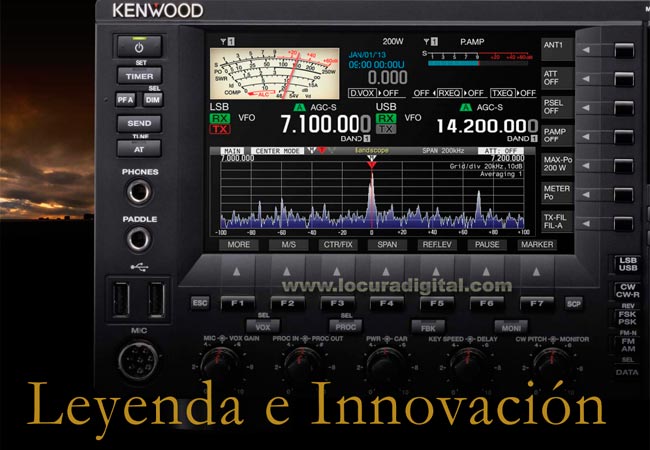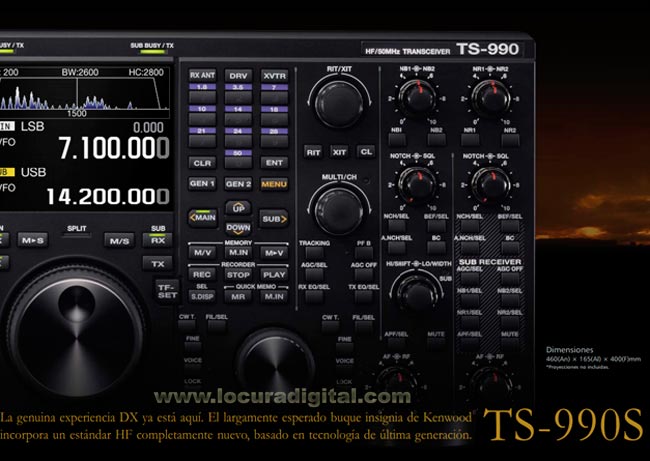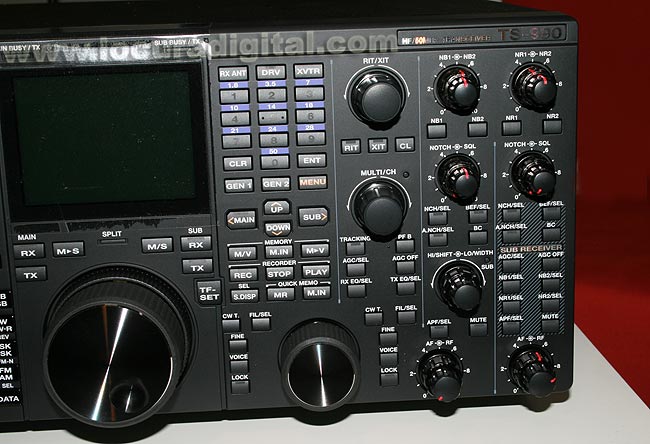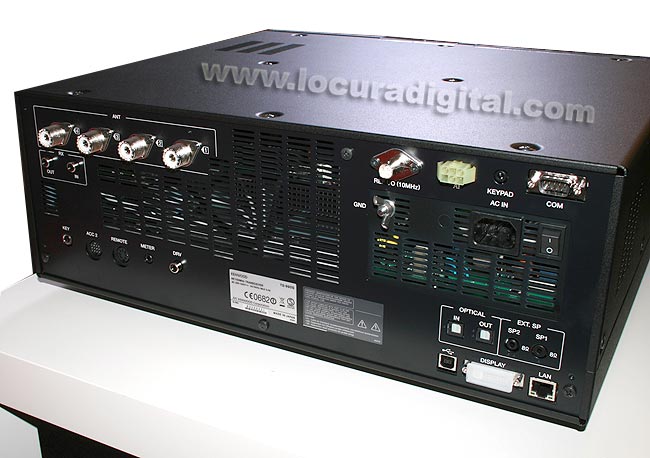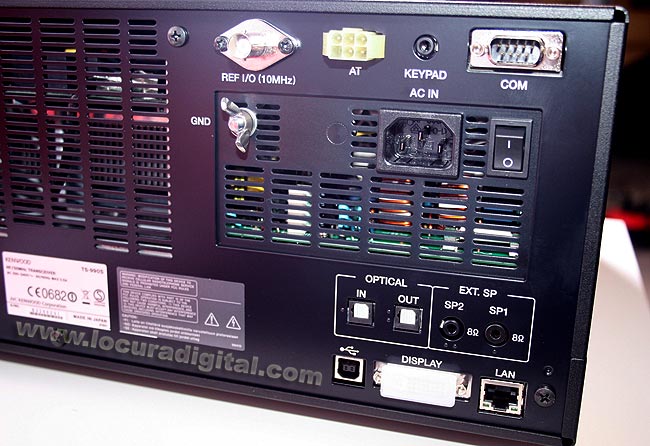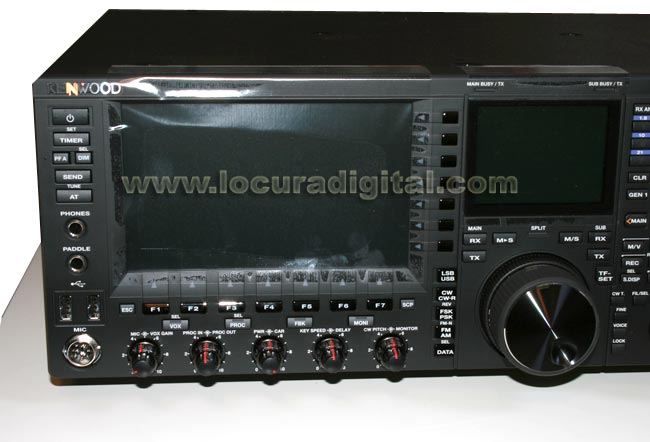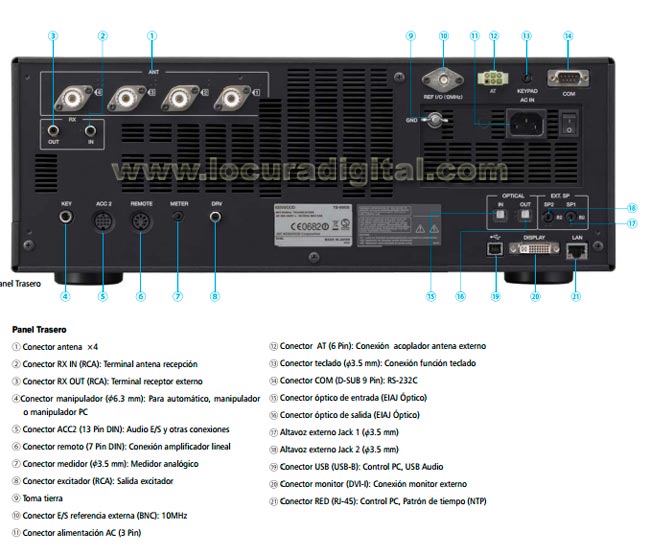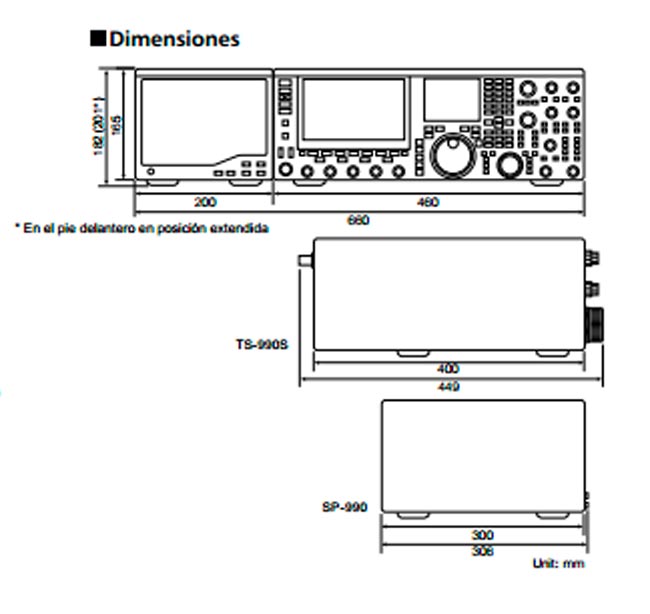 Kenwood TS-990s video presentation.
Kenwood TS-990s Video Slideshow
Features

margin
frequency
(Transmitter)
160m band 1.81 ~ 2.0 MHz
80m band 3.5 ~ 3.8 MHz
band * 1
60m 5.25 ~ 5.45 MHz
band 7.0 ~ 7.2 MHz 40m
30m band 10.1 ~ 10.15 MHz
20m band 14.0 ~ 14.35 MHz
band 18068 ~ 18168 MHz 17m
15m band 21.0 ~ 21.45 MHz
band 24.89 ~ 24.99 MHz 12m
10m band 28.0 ~ 29.7 MHz
6m band 50.0 ~ 52.0 MHz
margin frequency
(Receiver) *
2
0.13 ~ 30 MHz, 50 ~ 54 MHz
VFO: Continuous 30 kHz ~ 60 MHz
Mode
A1A (CW), A3E (AM) , J3E (SSB), F3E (FM),
F1B (FSK), G1B (PSK)
Frequency stability ± 0.1 ppm (0 ° C ~ +50 ° C)
Antenna Impedance 50 ?
7.16 range antenna coupler ? ~ 150 ?
Voltage AC 220 ~ 240 V (50/60 Hz)
margin alimentación ±10 % (AC 198 V ~ 264 V)
Consumption
current
In transmission
(maximum)
? 840 VA
In reception
(no signal)
? 200 VA
Operating Temperature 0 ° C ~ +50 ° C
Dimensions
No projections An 460 x 165 x 400 mm P
With projections An 460 x 182 x 449 mm P
footer. pos. extended to 201 mm (front), Al 173 mm (rear)
Approx. 24.5 kg
Transmitter
Power
Output
CW / SSB / FSK /
PSK / FM (AM)
200 W (50 W)
Modulación SSB:Equilibrado, AM:Power Baja, FM:Reactancia
Maximum frequency deviation ( FM) width: ? ± 5 kHz, narrow: ? ± 2.5 kHz
Spurious Radiation
HF (Harmonics): ? -60 dB
HF (other): ? -50 dB
50 MHz: ? -66 dB
Carrier Suppression ? -60 dB
unwanted sideband suppression ? 60dB
Frequency Response Transmission Within the range -6 dB (300 ~ 2700 Hz)
Microphone impedance 600 ?
variable band XIT ± 9.999 kHzCaracterísticas Amateur Radio General
Puerto E / S Reference 10 MHz Yes
"Band Elimination Filter" Yes
Display Band-scope If
CW Keyer Memory Included with Posts Yes
Power supply included type Switched PSU
Unit Guide If voice and Engraving
Clock Yes
COM port 9-pin D-sub Yes
Connectivity: - 10MHz Reference Oscillator (BNC) - External port ATU - Entry Keyboard - COM port (9-pin female) - Manipulator - Paddle (6.3mm jack) - 2 USB-A, 1 USB-B connector - Audio / Data "ACC-2" - Connector "Remote" - measuring 3.5 mm Jack - "DRV" low-level LF drive - Input / Output SPDIF optical - 2 external speaker jacks (3.5mm jacks) - DVI-I video port Dual-link - LAN port
External ATU If connector
connector linear amplifier remote If
Digital Optical Port Yes, I / O
Key Lighting Yes - 4 levels of lighting and LED display.
Buttons direct access to Banda Yes, 10 buttons for Amateur bands 1.8 - 50 MHz plus 2 buttons for overall coverage. Up to 5 memory bands button
Entrada directa de frequency Sí
output terminal low arousal "DVR" Yes, Jack RCA - 1 mW output covers 1.8 to 50 MHz bands over LF band 135.80-137.70 kHz
Front dual Yes
3 devices DSP DSP Devices Analog Devices Inc SHARC 32-bit for FI main, secondary and function FI bandscope
RX Equalizer DSP functions with 3 user configurations
Actualización de firmware via puerto USB Sí
Teclado en panel Frontal Sí
Conector auricular con salida doble RX Sí, Audio principal y secundario de RX puede ser escuchado mezclado o separadamente por el canal derecho/izquierdo
Bloqueo teclas Sí
Puerto LAN Sí
Zócalo altavoz Dos altavoces externos pueden ser conectados vía los conectores 3.5mm. Impedancia 4 - 8 ohms
Canales memoria con etiqueta alfanumérica 120 Canales de memoria
Zócalo micrófono 8-pins tipo "Chrome"
Función Mute Sí
Programa PC Radio Control (Opcional) Sí
Pre-amplificador Sí, Configurable por banda
Pre-selector Sí, Configurable
Función Teclas Programables Sí, 9 teclas PF
Compatible PSK31 Sí
Operación Remota vía Internet Software ARHP-990 permite gestión remota
Filtro Roofing Equipado con 270Hz, 500Hz, 2.7kHz, 6kHz y 15kHz como estándar
Sky Command 2 Sí
Procesador de Voz Sí
Receptor secundario Sí, Equivalente al receptor principal TS-590S
Display TFT Color Sí, 2 pantallas TFT. Pantalla principal de 7" con función Bandscope, Cascada y pantalla táctil de sintonización más pantalla secundaria de 3,5" con visualización de audio, medidor de sintonía PSK, etc. Color de fondo seleccionable. 4 tipos de presentación del medidor-S. Display secundario incluye la función X-Y (FSK) y la función vectorial (PSK)
Puerto USB Sí, 3 puertos USB. 2 x USB-A para memorias flash / teclado. 1 x USB-B para conexión PC
Especificaciones HF Amateur
Power de salida HF 200 W SSB/FM/CW/FSK, 50 W AM
Power de salida RF 50 MHz 200 W SSB/FM/CW/FSK, 50 W AM
Tensión de alimentación A.C. 220 - 240 V (50/60 Hz)
Impedancia de antena - 50 Ohm Sí
Acoplador de antena (160 - 6 m Bandas) - 16.7 Ohm a 150 Ohm Sí
Impedancia Output de Audio - 8 Ohm Sí
Power Salida Audio Superior a 1,5 W (8 Ohm, 10% distorsion)
Recepción continua: 30 kHz - 60 MHz Sí, En especificación - 0.13 - 30 MHz & 50 - 54 MHz
Consumo (aprox.) Power de consumo TX - 840 VA / Power de consumo RX - 200 VA
Estabilidad de Frecuencia ± 0.1 ppm 0 °C a +50 °C
Impedancia de micrófono - 600 Ohm Sí
Mode A1A (CW), A3E (AM), J3E (SSB), F3E (FM), F1B (FSK) & G1B (PSK)
Filtro de Atenuación Notch Mode Auto - Superior a 60 dB Mode Manual - Superior a 70 dB
Temperatura de funcionamiento -0 °C to + 50 °C
Eliminación Batido Recepción Mayor que 40 dB
Circuiteria Receptor Receptor principal - Doble superheterodina Sub RX1 Conversión inferior - Doble superheterodina Sub RX2 Conversión superior - Triple superheterodina
Rango Frecuencia Recepción Cobertura VFO = 30kHz - 60MHz Especificación banda principal garantizada = 0.13 - 30MHz/50-54MHz
Rechazo FI Recepción Menor que 70dB
Rechazo de Imagen Recepción HF - Menor que 70dB 50MHz - Menor que 60dB
Frecuencia Intermedia Recepción Receptor principal - 1ª FI 8.248 MHz/2ª FI 24 kHz (FM - 455 kHz) Sub RX1 Conversión inferior - 1ª FI 11.374 MHz/2ª FI 24 kHz Sub RX2 Conversión superior - 1ª FI 73.095 MHz/2ª FI 10.695 MHz/ª FI 24 kHz (FM - 455 kHz)
Selectividad Recepción SSB (BAJA:200/ALTA:2800 Hz) - Más de 2.4 kHz @ -6 dB/Menor que 4.4 kHz @ -60dB CW/FSK/PSK (Ancho: 500 Hz): Más de 500 Hz @ -6 dB/Menor que 1.2 kHz @ - 60 dB AM (BAJA:100/ALTA:3000 Hz) - Más de 6 kHz @ -6 dB/Menor que 12 kHz @ -60dB FM - Más de 12 kHz @ -6 dB/Menor que 25 kHz @ -50dB
Sensibilidad de recepción - 0.13 - 0.522 MHz SSB/CW/FSK/PSK = menor que 0.5µV AM = menor que 6.3µV
Sensibilidad de recepción - 0.522 - 1.705 MHz SSB/CW/FSK/PSK = menor que 4µV AM = menor que 32µV
Sensibilidad de recepción - 1.705 - 24.5 MHz SSB/CW/FSK/PSK = menor que 0.2µV AM = menor que 2µV
Sensibilidad de recepción - 24.5 - 30 MHz SSB/CW/FSK/PSK = menor que 0.13µV AM = menor que 1.3µV
Sensibilidad de recepción - 28 - 30 MHz (FM) Menor que 0.22µV
Sensibilidad de recepción - 50 - 54 MHz SSB/CW/FSK/PSK = menor que 0.13µV AM = menor que 1.3µV FM = menor que 0.22µV
Rango de frecuencia RIT ± 9,999 kHz
Supresión de portadora Menor que -60 dB
Respuesta en frecuencia de transmisión (SSB) 300 Hz - 2700 Hz (dentro de -6 dB)
Modulación en Transmisión SSB/FM/AM = Balaceada/Reactancia/Baja Power
Radiación Espurias Menor que -60dB
Radiación transmisión Espuria - 50 MHz Inferior a - 66 dB
Supresión de banda lateral no deseada Menor que -60dB
Rango de frecuencia XIT ± 9,999 kHz
Dimensions An x Al x F = 460 x 165 x 400 mm sin proyecciones
Peso 24,5 kg