BRV5 KIT. REVERSE SYSTEM MIRROR MONITOR 7 INCH The kit is composed of a rearview monitor function 7 inches and includes a color camera. Camara interior and exterior

.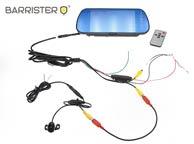 The mirror allows invert the image.

Subminister kit with all necessary accessories for easy installation without any special knowledge.

Mirror TFT LCD Monitor 7-inch .

Cables connection of 5 meters. .

Supplied with all accessories for assembly
Cables conexión de 5 metros.
The kit includes:

1 Monitor BRV500

1 Camara BRV170

1 Cable adapter BRV040
1 Power camara 5 meters
1 Cable adaptador BRV040
1 Cable de camara 5 metros

Activation with reverse

Activación con marcha atrásBy connect the green wire, which is adjacent to all connecting cables to the positive of the reversing that every time we put the reverse gear in our car, the camera image in our mirror is visualize.

This is ideal for carrying the mirror on stand-by and display only when we use the reversing

Esto es ideal para llevar el retrovisor en Stand By y visualizar solo cuando usamos la marcha atras

Assembly with two chambers

Montaje con dos cámarasIf you can buy an additional camera for the system. By AV1 or AV2 channel can view the camera 1 or 2

The example of this system can be found in a caravan. You can control all the time what is happening in the back, where your children playing or performing any act are. The moment you wish you can select the following AV channel and display the camera that has to display the back of your caravan.

El ejemplo de este sistema lo puede encontrar en una caravana. Usted puede controlar en todo momento lo que esta pasando en la parte posterior, donde están sus hijos jugando o realizando cualquier acción. En el momento en que usted desee puede seleccionar el canal AV siguiente y visualizar la cámara que dispone para visualizar la parte posterior de su caravana.