ECOFLEX 15
ECOFLEX 15 is a very low loss flexible coaxial cable, for its use in the DC - 6 GHz frequency range. Its unique construction combines the low loss properties found in hardlines but with the flexibility of RG/URM type cables.
An EMI screening immunity of >90dB a 1Ghz is achieved through the use of a DOUBLE SCREEN shield which consists of a +100% overlap copper foil plus an additional 72% copper wire braiding. The copper foil has a thin but very strong PE coat which helps to strengthen the foil against short radius bends and repete bending.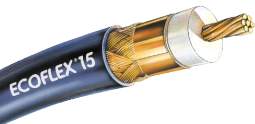 ECOFLEX 15 has been designed to meet the demands of the RF Telecommunications, Commercial Radio, Land Mobile, Satellite Communications, and Military requirements for a low loss highly flexible coaxial cable.
ECOFLEX 15 coaxial cable, is the clear leader for today RF applications. Available connectors are 7/16 DIN PLUG Cable Socket, N-type Plug and Cable Socket, and a PL259 Plug all of which are solder-less and only take a few minutes to fit and need no special tooling so saving on re-tooling costs.
Features
Technical Data (extract)
Impedance
50 Ohm
Capacity
77 pF/m
Velocity factor
0,86
Screening efficiency @ 1 GHz
>90 dB
Center conductor
stranded copper, 7x1,55 mm
Dielectric
PE, low-loss Compound
Diameter over sheath
14.6 mm
Min. bending radius
70 mm
Weight (100m)
25.8 kg
Max. power handling(W @ 40°C)
10 MHz
6450
100 MHz
1970
1000 MHz
560
Typ. attenuation (dB @ 20°C)

Frequency

100 m

100 ft

100 MHz

2.81

0.86

500 MHz

6.7

2,04

1000 MHz

9.8

2.99

2000 MHz

14.7

4,48

2400 MHz

16.3

4,96

3000 MHz

18.7

5.70

4000 MHz

22.3

6,79

6000 MHz

28.8

8,78
For your reference

ECOFLEX 15

RG 213/U

RG 58/U

Capacity pF/m

77

101

102

Velocity factor

0,86

0,66

0,66

att. dB/100 m
10 MHz

0,86

2,0

5,0

100 MHz

2,81

7,0

17,0

500 MHz

6,7

17,0

39,0

1000 MHz

9,8

22,5

54,6

3000 MHz

18,7

58,5

118,0