REF. AIRCELL7. OF 50 OHMS STOPS AERIALS OF RADIOCOMUNICACION CABLE OF VERY SHORT LOST. --- SALE BY METRES

AIRCELL 7 is a super cable coaxial designed for frequencies of even 6 GHz.
In a diameter of only 7,3 mm (0,287 "OD) and a minimum of flexion of radium of only 25 mm offers relatively short loss.
The short attenuation of AIRCELL 7 one is achieved through advanced techniques of manufacturing and the use of a PE LLC dielectric with a tax of foam of more than the 70%.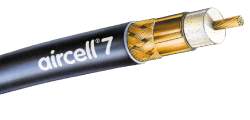 The extreme flexibility of AIRCELL 7 is improve still more through the use of multiple run without oxygen leading central.

Other advantages of this cable include the use of a double shield ground that one builds of the overlapping of copperfoil more one additional perfectly weabed copperbraid. The copperfoil has a covering applied PE that prevents the sheet of cracking because of the curves of short radium and the sheath of PVC black of AIRCELL uv 7 estestabilizado.

A selection of the efficiency > 85 dB @ 1GHz one is realized. AIRCELL 7 is the election correct when a super flexible, microwaves valuated cable one requires
- DIAMETRO: 7,3 mm
- Impedance: 50 ohms.
- Attenuation: 100 mts. 21,52 dB.
- Frequency Maximum: 6 Ghz.
Technical Dates (short form )
Impedance
50 Ohm
Capacity
75 pF/ m
Velocity factor
0,83
Screening efficiency @ 1 GHz
>83 dB
Center leading
stranded copper, 19x0,37 mm
Dielectric
PE, low loss Compound
Outer diameter
7,3 mm
Min bending radius
25 mm
Weight (100m )
7,2 kg
Max. power handling (W @ 40°C )

10 MHz

2040

100 MHz

620

1000 MHz

180
Typ. attenuation (DB @ 20°C )

Frequency

100 m

100 ft

100 MHz

6,28

1,91

500 MHz

14,72

4,49

1000 MHz

21,52

6,57

2000 MHz

31,88

9,72

2400 MHz

35,60

10,85

3000 MHz

40,88

12,46

6000 MHz

64,90

19,78
For your reference

AIRCELL 7

RG 213/ or

RG 58/ or

Capacity pF/ m

75

101

102

Velocity factor

0,83

0,66

0,66

Attenuation dB/ 100 m
10 MHz

2,2

2,0

5,0

100 MHz

6,28

7,0

17,0

500 MHz

14,72

17,0

39,0

1000 MHz

21,57

22,5

54,6

3000 MHz

40,88

58,5

118,0