Kit ideal for mounting in 2 minutes faster and simple.
CB 27 Mhz transmitter. AM / FM. ALAN 100 PLUS B
This kit consists of the radio Alan 100 Plus B (new model 2009) and the magnetic base Antenna Midland 18-244M is ideal for people who need a communication without fixtures. In less than two minutes you will have your station assembled and ready to send and receive.
New ALAN 100 PLUS features the essentials to good communication: a practical controls volume and mute to help you get optimum reception, while audio enhancer has studied a new condenser microphone with 4 pin connector and a new design that make it more ergonomic
If this all seems little, Alan has also incorporated the cigarette lighter socket for power in your vehicle quickly and efficiently facilitating assembly and disassembly of this station in a very simple
This kit is not valid for fiber cars as being magnetic antenna needs a metal surface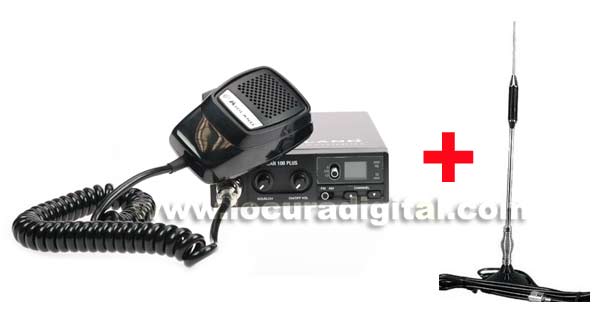 ALAN 100 PLUS FEATURES
- Direct access to channels 9 and 19
- Channel Indicator Display
- Selectors UP / DOWN in front
- Volume Control
- Squelch Control
- LED indicator Tx
- Socket for external speaker
- Connector 4-pin micro
- SO239 antenna connector
- Built-Socket


Includes:
1 RADIO ALAN 100 PLUS FULL + MAGNETIC ANTENNA MIDLAND 18-244M