LAFAYETTE ZEUS SILVER
LAFAYETTE ZEUS SILVER. 27 Mhz CB transceiver. High performance. SILVER COLOR.
40 channels AM / FM. Innovative and stylish appearance, type car radio, backlit LCD screen in blue. It has the dual-channel listening function, channel number function or frequency channel, three memories, roger beep, Automatic noise eliminator, direct access to emergency channel, etc ..., small size for enormous performance.
Important: E24 compliant which allows mounting electronic equipment in public transport vehicles.

40 CH AM / FM, 4-watt AM / FM, 27 Mhz CB transceiver.
TL / RB (low Tone / Roger Beep) button
SCH / BP (Sub Channel / Beep Tone)
SW / SC (Sub Watch / Scan)
Auto Squelch / Memory 1 (ASQ/M1)
Frequency / Memory 2 (FRQ/M2)
CH9/Memory 3 (Emergency Chanel9/M3)
Power / Sound Volume
LCD Display
Chanel Adjustment
Squelch Adjustment
Rx / Tx LED Indication
8 pins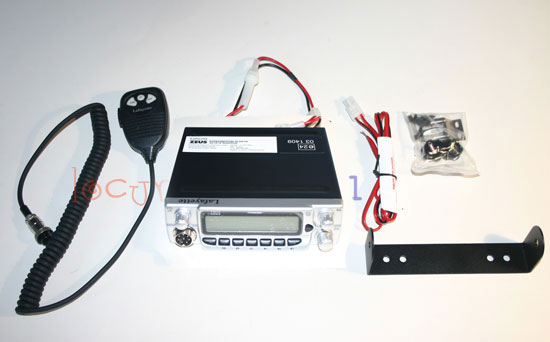 Features
Transmitter: Crystal controlled PLL synthesizer
Receiver: Double conversion, superheterodyne system
Voltage operation: 13.8 V DC
Temperature: -10 ° C ~ +50 ° C
Channel step: 10 kHz
Dimension: 140 (D) x 120 (W) x 40 (H) mm
Weight: 900 gr. w / o accessories
Output power: 4W FM / AM
Frequency range: 26.965 ~ 27.405 MHz 40Ch
Frequency tolerance: ± 600 Hz
Modulation sens: 3mV (1.25 kHz input)
Frequency range: Ch 40 ~ 27 405 26 965 Mhz
Sensitivity: AM: 0.5 microvolts (s / n 10dB) FM: 0.3 microvolts (12dB SINAD)
Squelch: 0.5 microvolts
Auto squelch: 0.3 microvolts
S / N ratio: 40 dB
Distortion: 3%
Max power: 4 watt
S / meter (S-9): 1000 microvolts
Power source: 13.8 Volt DC
Antenna impedance: 50 Ohm non-inductive
Audio impedance: 8 Ohm