SIGMA MANTOVA TURBO
SIGMA MANTOVA TURBO is manufactured by the prestigious Italian company Sigma Antenne, the MANTOVA TURBO is a legend, is the most powerful base antenna ever, with nearly 7 meters long, 8 dB gain and can withstand a 2,000 P.E.P. power, is made of high quality aluminium and the ones who test it define it as spectacular and as the best CB base antenna ever.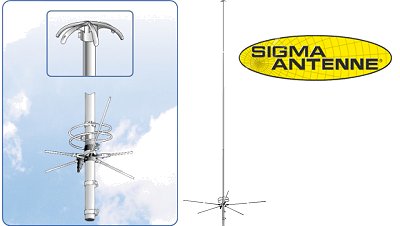 Where this antenna won't reach, no other will reach!!
Capable of supporting up to 2.000 watts of P.E.P. power the Mantova is a powerful 5 / 8 wave antenna with a gain very close to 8 dB. Its operating frequency range with an excellent R.O.E. ranges from 26 to 28 MHz.
Its sturdy aluminium quality construction takes up nearly 7 meters high, although with a content weight of 4,6 kg.

Features
Frequency: 26 to 28 Mhz.
Bearable Power: 2.000 watts P.E.P.
Gain: 8 dB
SWR Value: 1,1:1
Impedance: 50 ohms
Length: 7 meters
Weight: 4,6 kg
Connector: PL-259 female